I guess you have noticed by now that I am off my regular routine of post.
That's because I am suffering from the annual Back-to-School- Butt-Kicking cold.
Ugh. So I am off my blogging game among others (home keeping #1 among them)
Instead of trying to get back on track, I thought would call the week a wash and just share what I am reading and waiting to read instead. Sound good? Great!
Folly Beach
So far this is a good, interesting, not too fluffy, not too serious summer read.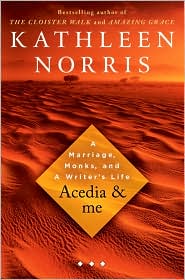 Acedia and Me: A Marriage, Monks, and a Writer's Life
A friend
gave me this book for my birthday last year and I am just now getting to take it in. I am loving it and I could not have picked it up at a better time.
My (Not So) Storybook Life: A Tale of Friendship and Faith
This book is by my friend (and practically neighbor)
Liz Owen
.
It is not out till October but I cannot wait to read it!
Rachel Ashwell's Shabby Chic Inspirations
This will be on my Christmas wish list for sure. I am always a fan of Rachel's, and I cannot wait to see her newest book.
So there you have it, a brief look at what I am reading and wishing for,
What about you? What are you reading and wishing for?